Scrum Bootcamp (RSM+RPO) 230424
Earn TWO valuable credentials in just 5 days (Registered Scrum Master and Registered Product Owner). With this five half-day course, you will go beyond the basics of Scrum and register your commitment to quality Agile leadership. Our instructors will guide you through the world of Scrum Mastery and Product Ownership.
The world moves increasingly fast. With this course you learn the techniques you need to keep your team, your product, and your career ahead of the pace. You will gain hands-on knowledge and will grow their ability to embrace Scrum and guide their teams to doing twice the work in half the time. At the end of the class, participants will be eligible to sit for the RSM and RPO credentials.
The Registered Scrum Master curriculum was developed by the co-creator of Scrum, Dr. Jeff Sutherland. This course goes beyond the basics of Scrum and the Scrum Master role.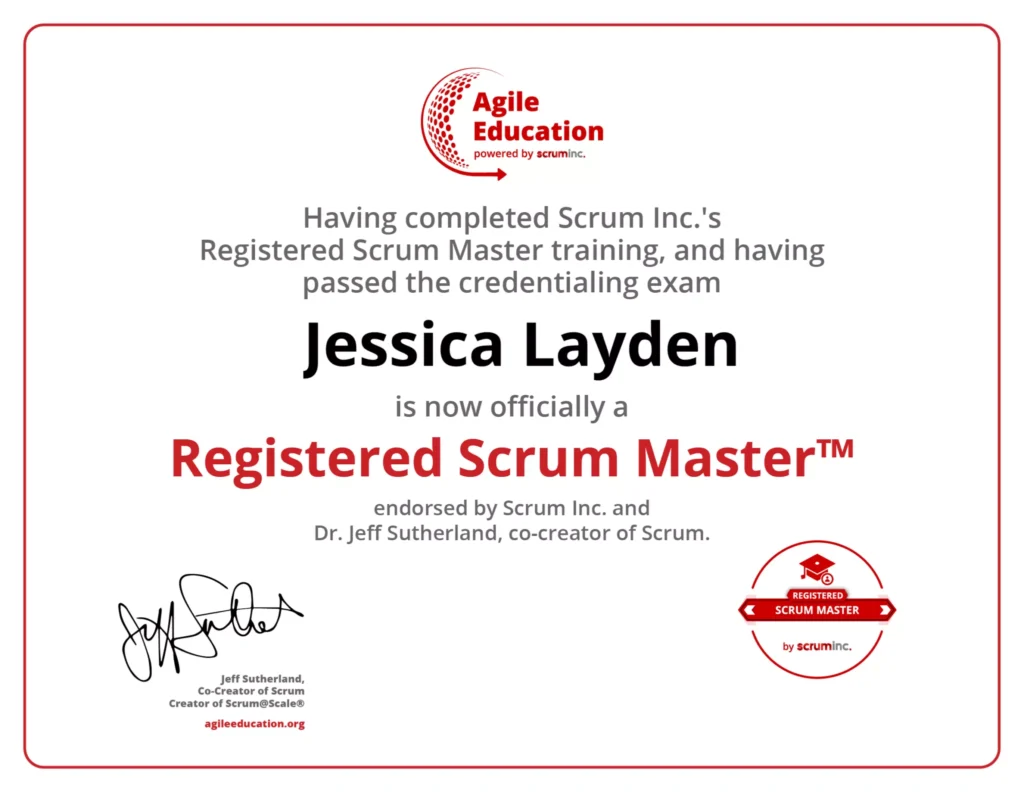 Highly regarded, industry-recognized credential
Sets you apart as a leader with proven expertise
Most popular Agile framework in use
Stay relevant in today's job market
Spearhead increased productivity and deliverables
Improve team management and collaboration
Cultivate a healthier work environment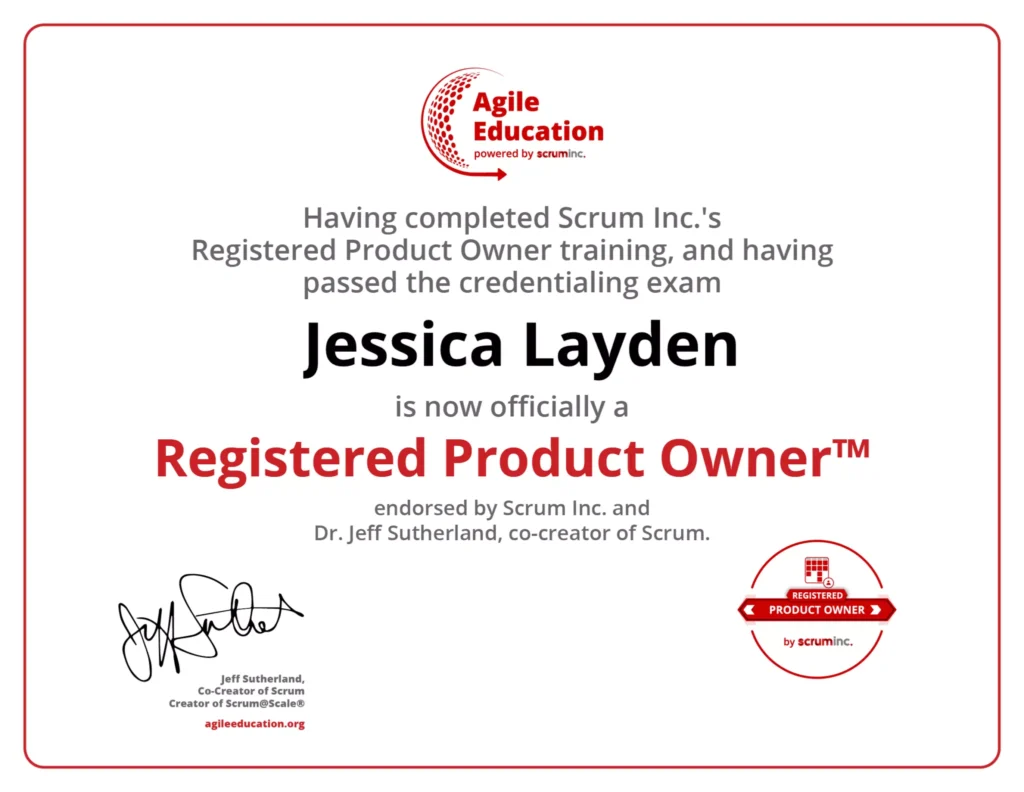 Highly regarded, industry-recognized credential
Sets you apart as a leader with proven expertise
Most popular Agile framework in use
Evidence-based techniques for consistently delivering high value to stakeholders
Empower team productivity and collaboration
Stay competitive in today's job market
Hourly Schedule
Day 1: Basics of Scrum
0800

-

0830

Get to know everyone

An introduction to the course and your learning cohort.
0830

-

0930

Why Scrum

Understand the basics of why companies use Scrum and why it works.
0930

-

1100

Agile Rising

Be able to communicate the origins of Agile and how that influenced and was influenced by Scrum.
1100

-

1200

Scrum Framework

Understand the basics of 3-5-3-5 Scrum.
Day 2: Before the Sprint
0800

-

0830

Case Study Review

Interactive walkthrough of a large-scale implementation of Scrum and the impact on success and value generation.
0830

-

0900

Scrum Roles

A walk through of the Product Owner, Scrum Master, and Developer roles and how they interact on a Scrum Team.
0900

-

0930

Agile Management

Transitioning from command and control leadership to empowering your team to succeed.
0930

-

1030

Product Backlog

How to build a usable Product Backlog.
1030

-

1200

Refinement

Getting your work to Ready and techniques for building quality Product Backlog Items.
Homework: Estimation

Learn multiple techniques for Agile Estimation.
Day 3: During and After a Sprint
0800

-

0900

Agile Estimation

Practical experience with Agile Estimation techniques.
0900

-

0915

Daily Scrum

Learn how to keep your team on track to delivering work by updating your plan every day.
0915

-

1015

Sprint Planning

Select the most valuable problems to solve and build a plan to get them solved in a Sprint.
1015

-

1100

The Boards

Understand the role of the Big, Visible Information Radiator.
1100

-

1200

Sprint Review

Hands-on experience with a Sprint Review. Learn techniques to gather and apply feedback.
Homework: Scrum Patterns Teachback

A GROUP activity to teach others about Scrum Patterns.
Day 4: Product Ownership in a Nutshell
0800

-

0930

Sprint Retrospective

If you aren't a little bit better today than you were yesterday and tomorrow than you are today, then you will fall behind. The Retro helps you accomplish this.
0930

-

1020

Scrum Patterns

Scrum Patterns are techniques that high performing teams use to succeed. Learn the core patterns you should be using and how to apply them in your team.
1020

-

1130

Strategic Vision

Learn how to create teams of super heroes through inspirational vision.
1130

-

1200

Business Value

Learn how to define value and how to use value and effort to determine prioritization.
Homework: Lean Tools and Scrum@Scale
Day 5: Product Owner Deepdive
0800

-

1000

Canvases

Learn how to use Strategyzer tools such as the Business Model Canvas and Value Proposition Canvas to build products that delight your customers.
1000

-

1100

Slicing Stories

Learn techniques to slicing stories and creating Product Increments that solve human problems.
1100

-

1200

Closing

Open Q&A time and focus on ways to apply what you've learned in your day-to-day.
Trainer
Chris Sims

CEO / Chief Product Owner for CAVU and Sigao

Chris Sims, founding team member and CEO of Sigao Studios, found his stride as a software engineer and project manager during his management information systems studies at the University of Alabama. Now, with over 20 years of programming and 16 years of project management experience under his belt, Chris confidently leads his team to identify complex problems and push the boundaries to achieve high-performing, innovative and sleek solutions. Chris is a passionate trainer that loves helping others accomplish their goals through dynamic and hands-on training. Chris leverages his mastery of project execution and mentoring techniques to build collaborative and creative problem solving teams that are empowered to deliver dynamic results. His passion is watching clients-from startups to extremely large, multi-million dollar IT projects-succeed at Agile problem solving through Sigao's technical solutions.